Penang Street Food: Nasi Kandar
Nasi Kandar is a popular northern Malaysian dish, which originates from Penang. It is a meal of steamed rice which can be plain or mildly flavored, and served with a variety of curries and side dishes.
The Indian Muslim hawkers used to sell steamed rice and curry mutton, curry chicken, curry fish or prawn. etc. by carrying two buckets with a yoke on the shoulder in the early days. Nasi kandar literally mean rice being delivered by a yoke.
The name has remained and today the word Nasi Kandar is seen on most Tamil Muslim or "Malaysian Mamak" restaurants and Indian-Muslim stall meals.
A few selected Nasi Kandar stalls in Penang:
1. Nasi Kandar Kassim, 14 & 21 Jalan Gurdwara, George town, Penang.
Business hour: 7AM-12 Midnight
GPS: 5°24'47″N 100°19'42″E
**********
2. Restoran Tajuddin Hussain, 49, Queen Street, Penang.
Business hour: 12 Noon – 3.30PM; 7PM-10PM.
Closed on Sunday.
GPS: 5°25'1″N 100°20'18″E
**********
3. Nasi Kandar Line Clear. alley next to 177, Penang Road, 10000 George Town, Penang.
Business hour: 24 hours (closed on alternate Tuesday and 1-2PM Friday)
GPS: 5.419674N, 100.332502E
**********
4. Nasi Kandar Pelita Samudra Pertama, 146A, Macalister Road, George town, Penang.
Business hour: 24 hours
GPS: 5.416104N, 100.324611E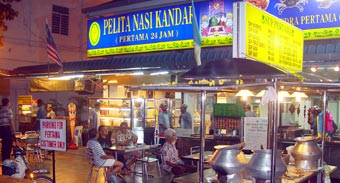 Posted by admin on March 15, 2011 under Street Food.